We have added a number of information resources on a range of SEND topics for individuals, parents/carers and professionals.  We'll be adding more useful handouts to this section over time.  Please click on the headings below to find out more:
Useful Information
http://www.parents4change.co.uk/
We are Grandparents/Carers, Parents/Carers, Siblings/Carers, Foster Parents/Carers and Adoptive Parents/Carers of children with diagnosed and undiagnosed disabilities in Middlesbrough.
We are developing ways to include families in the process of influencing change in children's disability services in Middlesbrough. To ensure that any changes being made to children's disability service are meaningful in Middlesbrough.
We are a Department of Education funded forum of parents and carers of children and young people (0-25) with special educational needs and/or disabilities. Our main aim is to ensure the needs of our children are met. We bring together parent carer voices from across Redcar and Cleveland to improve engagement between services and families, to empower each other and influence policy and practice.
A new NHS telephone line, 0300 2000 000, is now available for anyone on Teesside to call if they are concerned about a child or young person's (up to 18th birthday) emotional wellbeing.
Open Monday to Friday from 9am to 5pm (excluding Bank Holidays), the line is available to anyone including parents, carers, school staff, health professionals and GPs. Children and young people worried about their own mental health can also call the number.
Callers will speak to mental health nurses from Tees, Esk and Wear Valleys NHS Foundation Trust (TEWV). After discussing concerns, the nurse will consider the most appropriate next steps to best support the child or young person.
Help and support can come in many forms including self-help guidance, signposting to appropriate support services in the voluntary and third party sectors or referral into NHS child and adolescent mental health services (CAMHS).
Where a child or young person is signposted to a support organisation, the nurse will contact the relevant organisation direct on behalf of the family to explain the concerns and to make sure the link is made so support is offered.
Lynne Brown, TEWV service manager for CAMHS in Teesside, said: "We want to speak to children and young people, or any concerned adult, about their emotional and wellbeing worries as soon as possible. Doing so means we can make sure the right support is offered early on before things build up or get worse.
"When ringing our 0300 2000 000 number, callers can speak direct to a mental health nurse who can provide advice and next steps guidance there and then.
"In many cases, that advice and guidance will link children, young people and their families to one of the many organisations across Teesside, or nationally, set up to support children's and young people's mental health.
"In some cases self-help might be what is needed, or in some cases support from our NHS child and adolescent mental health services will be appropriate."
The 0300 2000 000 telephone service is part funded by Tees Valley clinical commissioning group (CCG).
The Royal College of Speech and Language Therapists have developed some free, online training to 'improve understanding of children and young people who have both mental health needs (or social emotional and mental health needs – SEMH) and speech, language and communication needs (SLCN').
Contact Family Support Service
We are Contact and we are providing support to families of children with neurodevelopmental needs living in Darlington, Middlesbrough or Redcar and Cleveland.
The support we are offering is:
Free Evening Workshops for families to attend over the summer holidays
Free 1:1 Telephone Support Service
Free 1:1 Autism Telephone Support Sessions
To book your place for any of the above please follow this link: Darlington and South Tees Contact Eventbrite Page
FREE EVENING WORKSHOPS:
Tuesday 3 August 7.30pm - 9.30pm TOILET TRAINING FOR 0-5 YEARS How to toilet train your child in the summer holidays.
Tuesday 10 August 7.30pm - 9.30pm SUPPORTING YOUR CHILD'S SLEEP Why sleep problems may occur, how to introduce a sleep routine, top tips.
Tuesday 17 August 7.30pm - 9.30pm GETTING READY FOR TRANSITION For parents of children of all ages to support getting ready for a new school year in September.
Thursday 19 August 3.00 - 5.00pm UNDERSTANDING YOUR NEEDS - FOR YOUNG PEOPLE - a safe space for young people to talk about their needs and receive support with Marie Jevon, Director for Include 'In' Autism.
Tuesday 24 August 7.30pm - 9.30pm ENCOURAGING POSITIVE BEHAVIOUR Understand your child's behaviour, plus top tips.
Tuesday 31 August 7.30pm - 9.30pm UNDERSTANDING THE DIAGNOSIS Understand and discuss the diagnosis you may have just received, or if you're on the pathway to a diagnosis and need information and advice.
FREE TELEPHONE SUPPORT SERVICE:
Talk with an experienced family support adviser in confidence for 1 hour - a supportive ear and helpful advice.
Offering support with sleep, behaviour, wellbeing, finances, understanding the diagnosis and transition.
Our family support advisors are parent/carers themselves and can offer both a parental and professional point of view.
The family support advisors will offer a space to be heard and listened to
The family support advisors are very knowledgeable and can offer you advice and signposting to other local services to meet your need
FREE AUTISM 1:1 SUPPORT SESSIONS:
Telephone support provided by Marie Jevon, Director for Include 'In' Autism with over 32 years experience in Autism. www.includeinautism.org.uk
Marie has managed several care establishments for adults with Autism, learning disabilities, challenging behaviour, physical disabilities, complex needs and mental health conditions. She is passionate about autism and is highly experienced in challenging behaviour.
A telephone call back appointments at a time of your choosing from Marie
Available for parent carers of children with Autism living in or accessing services in: Darlington, Middlesbrough or Redcar & Cleveland
Marie will provide over the phone bespoke support with a clear understanding from a parents point of view as well as a professional point of view.
Marie offers support strategies for the home and community, and will offer support around communication and routine as well as behaviour issues.
Marie will listen to you and work with you in coproduction for the best support for you and your child
Register to book your FREE appointment and Marie will call you on the date and time you have booked
To book an appointment visit www.contact-tees.eventbrite.co.uk
To find out more please contact: south.tees@contact.org.uk or call our freephone number on 0800 2540890
We are Contact and we are working with Tees Valley Clinical Commissioning Group to offer families living in Darlington, Middlesbrough or Redcar and Cleveland priority access to our FREE Listening Ear Service and Workshops.  We are supporting families of children with neurodevelopmental needs. 
The Workshops and Listening Ear Service are free.  Families simply register through the Eventbrite booking page.
There is a mixture of times in the day and in the evening to suit everyone. Darlington and South Tees Contact Eventbrite Page
We also have a Facebook page, a friendly community where parents carers with disabled children in the area can mutually support each other through the challenges of everyday life.  Please click here to join.
Contact helps parents of children with disabilities and special educational needs - whoever they are and whatever their child's condition. We can help with your most pressing issues, like benefits and education. We guide families through services and offer a listening ear during stressful times. www.contact.org.uk
Find out more by contacting: south.tees@contact.org.uk or call our freephone number on
0800 2540 890.
Quotes from parents who have used the service:
"It allowed me to talk about everything that is effecting us as a family and my son's additional needs. It gave me the opportunity to release some of the stress and have routes to explore to help my son rather than feeling helpless and as a result I feel that I was able to engage better with my family as I was more relaxed"
"Shona was brilliant. She understood. combining her knowledge and lived experience she listened to me rant and was my sense checker. She helped me get prospective on my situation."
"Being able to have a listening ear has given me the confidence that I am doing something right. It was also refreshing to speak to someone that understood how I was feeling. The practical advice and information given is a real help. I am so glad that I decided to book this appointment."
"An excellent service provided to agents and carers of children with special needs, sometimes you just need someone to listen, understand and point you in the right direction and that is exactly what this service did for me."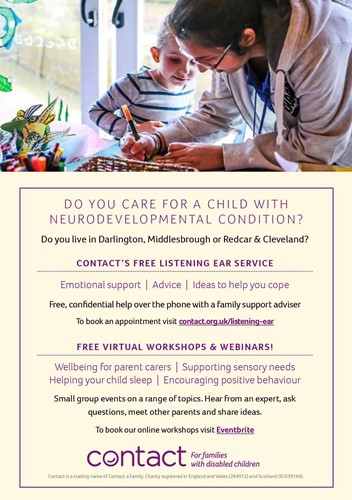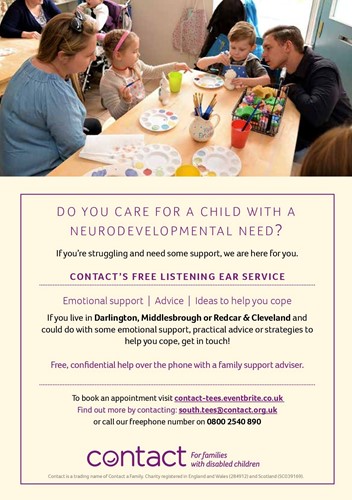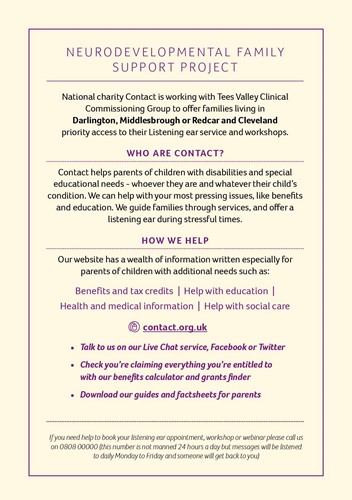 Last updated: