What is SENDIASS and who is it for?
SENDIASS stands for Special Educational Needs and Disabilities Information Advice and Support Service. SENDIASS supports parents and carers of children and young people with SEND aged up to the age of 25. Our service is free, which means we won't charge you any money. SENDIASS can help you get the right support in college, school and at work. We can also give you information about other services such as health or social care. 
For example a SENDIASS caseworker could:
Help you to arrange a meeting with teachers and other school staff about the help you need in school.
Help you to write down all the things you want to say at the meeting and even come along with you to make sure that you have the chance to say all the things you wanted to say.
Help you and your parents, teachers and other professionals to make a plan about how to meet your needs.
SENDIASS offers impartial advice and support – which means we won't take sides. Our service is confidential which means we won't tell people what we have spoken about unless we feel you or someone else is in danger.
Every area in England has a SENDIASS service by law, and every service has to meet standards to make sure we are providing a good quality service. Click on the link below to find out more about what to expect from your IASS service.
SENDIASS in North East Lincolnshire
Here are some fact sheets and information you may find useful.
The below resources have been created to help you to gather your views and your aspirations. They also can help grown-ups help to support you in preparation for your annual review.
North East Lincolnshire SENDIASS has a Young People's Steering group called the M&M Group (My Voice & My Life), they meet every half term. The group gives young people (aged 16 - 25) a chance to have their say in how the service is run. For more information on how to become involved with the group please call us on 01472 355365 or email nelincs@barnardos.org.uk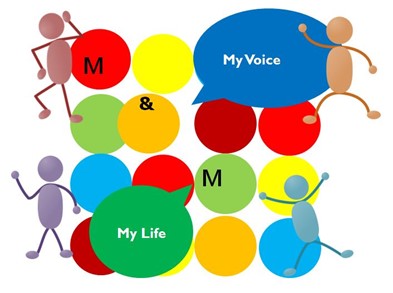 Due to the current Covid 19 restrictions we are unable to meet at the present time, we are hoping to resume with the meetings as soon as we possibly can.
Click here to view the Well-Being Check List the M&M Group have put together. 
In February 2020, the M&M group worked with the Barnardo's Publicity Manager and the BBC to produce a short film looking at barriers young people with SEND have when preparing for adulthood. You can view the film by clicking here.
Also during February 2020 NE Lincolnshire SENDIASS held a fun event for children and young people with SEND with the aim of developing their voice and influence and reaching more children/young people, parent/carers and professionals through attending community events in community settings.
The event was named 'The Big Event- Our Future!', was held at Freeman Street Market and was themed around Preparing for Adulthood (Employment, Independent Living, Community Inclusion and Health). The planning and delivery of the event was led by the M&M group. The M&M group, with the support of a SENDIASS project worker, decided which services/agencies they would like to have at the event and the types of experiences they wanted the opportunity to try.
You can view the full report of the day by clicking here.
The Big Event- Our Future! was also the event where the M&M Group officially handed over NELC's SEND logo.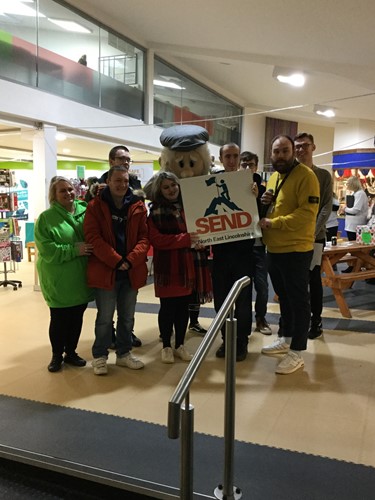 The M&M group had been approached by the SEND Manager to co-produce a new SEND logo for the Local Authority. The young people had worked intensely on this project with the support of NELC's Marketing and Social Media Officer.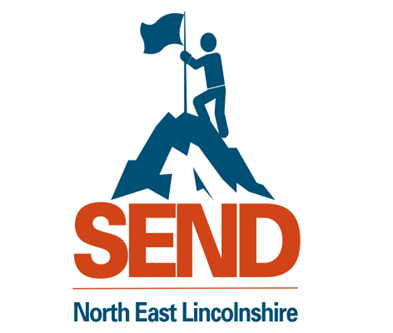 During the event the young people asked 'What helps you feel safe & valued in the community'.
The answers they wrote down were displayed on a chalk board.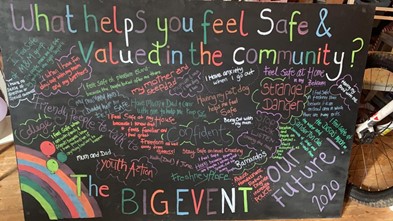 Time to Talk Next Steps is a three-year programme which supports young people with additional needs to build confidence, provide motivation and help make plans for the future.
Time to Talk Next Steps is being delivered by the National Development Team for Inclusion (NDTi) in partnership with Contact and is coproduced with young people with additional needs and their families.
How to Contact Us
Our opening hours are Monday - Thursday 8.30am - 4.30pm and Friday 8.30am - 4pm. Please contact us either by using our website chat facility, call us on 01472 355365 and leave us a message or email nelincs@barnardos.org.uk. We aim to return calls within 10 working days.
Visit our Facebook page.
You can also complete our Enquiry / Referral form.
Important! You may want your parent or guardian to contact us on your behalf. Where young people (16 or over) have the mental capacity to understand our service we will ask them to complete a consent form before we can discuss their details with parents/carers.
Last updated: